Getting Started
We think that good agents deserve more business.
Get the most out of your free profile by reading the tutorials below.
Edit Your Profile
Your Peer Reputation profile is the key to earning more business. It helps you demonstrate your professional value, build a personal connection with prospects, and establish professional rapport with other agents.
There are 7 sections in your profile. To get the most out of your profile, make sure you edit sections 1, 4, 5, and 6 as shown in the image and described below: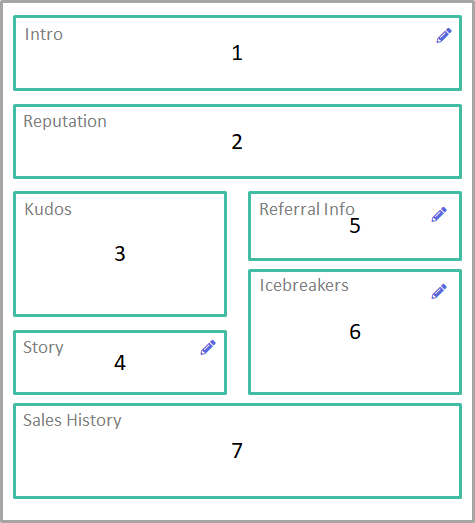 Section 1. Introduction
Nickname
Hometown
Initial Licensed Year
Other Social Media Links
Section 2. Reputation
Reputable Agents are the kind of agents that other agents like working with and the kind of agent that clients deserve. This section displays whether or not an agent has earned their Reputable Agent status based on feedback from agents they've worked with. Learn how to Build Your Reputation.
Section 3. Kudos
Kudos are compliments that agents submit about agents they enjoyed working with. Learn how to Request Kudos.
Section 4. Memorable Transaction
Demonstrate greater value by telling the story of a transaction you've been through. This will show agents and prospects that you know how to navigate the complex process. Check out Rosa's story for inspiration.
Section 5. Referrals/Mentorship (Agent-Only Info)
If you are interested in earning more money then make sure you edit this section. It will help referral partners find you as well as newer agents willing to share their sphere with you in exchange for experience.
Section 6. Icebreakers (Get to Know Me)
Real estate is relationship-based. Use this section to build a personal connection with your prospects.
Build Your Reputation
Reputable Agents are the kind of agents that other agents like working with and the kind of agent that clients deserve. You can build your Reputation by doing good work and getting positive feedback from other agents. Jumpstart this process by going into your Dashboard and clicking on the Build My Reputation button. From here, you can select which agents you'd like to request feedback from. It may help to notify them that they should look for an email from PeerReputation.com.
Win Bidding Wars
Use your Reputable Agent designation to set yourself apart from other offers and help your clients win bidding wars.
If you're a Reputable Agent and Supporting Member (paid subscription), you can easily print an Agent Qualification Letter from your profiles to include in offer packages. This letter tells the listing agent and seller that they should work with you because you know how to get the deal done.
Prospect More Effectively
Real estate is complex and consumers don't have a deep understanding of this major process. Your profile and Reputation brings these things to light and tells the most compelling prospecting story possible: "You should work with me because other agents like working with me."
Here are effective, nonintrusive ways to share that story:
Share your Kudos on social media – Go to your profile and click the share button next to the desired Kudo
Add your profile to your email signature – Go to your profile and use the link in the address bar
Bring your Agent Qualification Letter to appointments to demonstrate your value
Share your profile on social media - Go toyour profile and use the link in the address bar
Network with Other Agents
Real estate is a relationship-based business. Use your Dashboard to build and maintain connections with agents whom you've worked with, admire, and share a brokerage. Interact with these agents to stay at the front of their minds. This is especially helpful when you submit offers and share referrals in the future.
How it works:
Your Dashboard contains a stream of recent activity in your professional sphere. Use the filters to toggle views.
High Five other agents to congratulate them for their good work even if you weren't a part of the transaction.
Follow other agents to stay up to date on their achievements – Use the search bar to find the agent and then click the Follow button.
Qualify Purchase Offers
Failed transactions have doubled in recent years. It's important to help your client pick an offer from an agent who knows how to guide their buyers through inspections, financing, and closing.
Use the search bar to find an agent and confirm that they are a Reputable Agent. Then read through their profile and Kudos to help qualify the agent's abilities.
Get Referrals
Opt into the Referral Network from your profile so that agents around the country can find you (Agent Only Info section). Build your Reputation and make sure your profile is complete to improve your chances of making a referral connection!
Find Referral Partners
You want to take good care of your clients no matter where they are. Now you can find quality referral partners all over the country who have been vetted by their peers.
How it Works
Peer Reputation was founded by experienced real estate agents. We believe that our industry looks and operates best when great agents are helping clients navigate the complex real estate process. We believe that great agents are identified by the quality of their work and that their fellow agents are in the best position to provide that assessment. Our goal is to identify and promote great agents by their peer reputation and help them earn more work.
In order to easily identify great agents we created the Peer Reputation seal and PCRA designation ("Peer-Certified Reputable Agent", or shortened to "Reputable Agent").
What does it cost to be a Reputable Agent?
$0. We're never going to charge someone to be a Reputable Agent. It's an honor that can only be earned by doing great work.
Reputable Agents deserve more business
Reputable agents are the kind of agent that other agents want to work with, and the kind of agent that clients deserve. We think Reputable Agents deserve more business and we are creating tools to help them.
How does someone become a Reputable Agent?
The Reputable Agent and PCRA designation are earned by doing great work:
After a transaction closes, we ask each agent if they enjoyed working with the other agent.
Agents leave anonymous feedback about their transaction counterpart. (We don't tell recipients who submitted the feedback and we don't display the feedback until multiple feedback has been received.)
We crunch the numbers continually to determine which agents are Reputable.
Peer Reputation can help brokers too
When agents do well, brokers do well. Our feedback system is designed to arm great agents with tools they can use to achieve even more success. We also believe that all agents can be developed into great agents through training, mentorship, and experience. When agents receive negative feedback from another agent, their broker has the opportunity to view that feedback and help their agent improve.
Contact Us
The best way to reach us is email: hi@PeerReputation.com
You can also leave us a voicemail at: 1-833-Peer-Rep (1-833-733-7737)